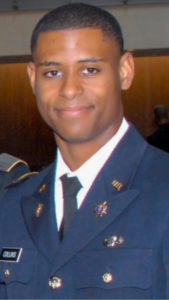 This Memorial Day, please remember Calvert County resident Richard Collins, III.
Richard met my son, Samuel, in Middle School. They immediately became good friends.
After high school, Richard entered ROTC at Bowie State University. Last year, while visiting College Park, Richard was murdered. He would have graduated from Bowie State just days later. Richard was eager to serve his country.
This year, the Maryland General Assembly introduced HB1786 and its counterpart SB1202. The bills create a scholarship in Richard's name.
Richard had a love of life, friends, family & country. It is my hope, this scholarship will continue his memory. And, I look forward to the day when people will be judged by the content of their character - - - and not the color of their skin.
In memory of Richard Collins, III, and to all who made the ultimate sacrifice - Thank You.
We remember.
---
Yours In Service,